MARTIN CHEEK MOSAIC WORKSHOP NOVEMBER 2015
Koko Mosaico is pleased to hosts:

Martin Cheek and Andrew Higgins's mosaic workshops

WHERE:
Koko Mosaico, Ravenna, Italy

WHEN:
Workshop 1: 11 Days Wednesday 4th - Saturday 14th November 2015 (Now FULL)
Workshop 2: 8 Days Sunday 15th - Sunday 22nd November 2015

COSTS:
Workshop 1: 11 days, 10 nights mosaic course @ €2130.00 per person including accommodation, breakfast and a daily lunch.
Workshop 2: 7 days, 6 nights mosaic course @ €1500.00 per person including accommodation, breakfast and a daily lunch.

TO BOOK: Please contact Martin: mrtncheek@hotmail.co.uk

For many years Martin Cheek and Andrew Higgins have been running mosaic courses from Martin's beautiful studio in Flint House in Broadstairs on the Kentish coast in the UK. In addition to these workshops at home Martin and Andrew also run a special annual mosaic masterclass and tour abroad. Previous years have included Venice, Greece, Tuscany, Sicily and Istanbul.
This year, by popular demand Martin and Andrew have been asked to run a mosaic course in Ravenna.
Ravenna seemed to ideal place to run this course, having fabulous classical mosaics and a rich Byzantine heritage.
The course is both a creative and relaxing holiday experience.
Martin and Andrew will teach for 3½ hours daily.
There is a lot of opportunity for one to one tuition.
Another great feature about this course is meeting your fellow course participants from all over the world.

The Venue: The venue will be the studio of Koko Mosaics

PROGRAM:

Day 1 – Wednesday 4th / Sunday 15th November
Fly to Italy. Nearby airports are Forli, Bologna, Florence and Pisa. This can be very cheap if you book in advance, LowFareFlights.co.uk and easyjet.com fly to Bologna Forli which is even closer to Ravenna than Bologna. That said I prefer to fly with British Airways to Bologna and catch the train to Ravenna. Timings: The BA Outward Flight BA0540 from London Heathrow (LHR) to Bologna (BLQ) leaves 08.40 and arrives 11.45. We then catch the train from Bologna to Ravenna arriving mid afternoon. Check in at the Ostello Galletti Abbiosi hotel. At 6.00 pm meet Martin Cheek and the rest of the group in the reception at the Ostello Galletti Abbiosi hotel prior to going for dinner at the nearby Al Passatore where we all meet each other.

Day 2 – Thursday 5th / Monday 16th November
9.00-12.30: Arrive at KOKO Mosaic Studio to set up studio and allocate work places. Mosaic Workshop #1
Martin and Andrew will discuss your design possibilities with you.
Martin will demonstrate cutting techniques for glass smalti.
12.30: Lunch at the Sant'Apollinare Nuovo Ristorazione
14.00: Continue to work on mosaics, relax or wander around & discover Ravenna.

Day 3 – Friday 6th / Tuesday 17th November
10.00: Guided tour of Ravenna. We will gather in the Hotel foyer where we will meet our guide, Manuela. We will be visiting the following sites:
· Galla Placidia Mausoleum (5th Century)
· Basilica of St. Vitale (6th Century)
· Archiepoiscopal Museum and Chapel (6th Century)
· The Baptistry of the Cathedral (5th Century)
· The Church of Spirito Santo & The Arian Baptistry (6th Century)
· The Basilica of St. Apollinaire Nuovo (6th Century)
12.30-13.30: Lunch at the Sant'Apollinare Nuovo Ristorazione
14.00: Continue to work on your mosaics

Day 4 – Saturday 7th / Wednesday 18th November
9.00-12.30: Mosaic Workshop #2
Talk 1: Martin will talk about the production of his own hand made murrini and glass fusions.
Continue to work on your mosaics assisted by Martin and Andrew.
12.30-13.30: Lunch at the Sant'Apollinare Nuovo Ristorazione
14.00 – 19.30: In the afternoon you can continue to work (unassisted) or visit one of the suggested churches or museums (see list below) or simply relax.

Day 5 – Sunday 8th / Thursday 19th November
9.00-12.30: Mosaic Workshop #3
Talk 2: Martin will give a talk about how using various opus in your mosaics can create andamento (movement).
Continue to work on your mosaics assisted by Martin and Andrew.
12.30-13.30: Lunch at the Sant'Apollinare Nuovo Ristorazione
14.00: Ravenna Mosaic Tour part 2. We will be visiting the following sites:
· The Basilica of St. Apollinaire Nuovo (6th Century)
· The Basilica of St. Apollinaire in Classe (6th Century)
In the afternoon you can continue to work (unassisted) or visit one of the suggested churches or museums (see list below) or simply relax.

Day 6 - Monday 9th / Friday 20th November
9.00-12.30: Mosaic Workshop #4
Talk 3: Martin will talk about contrast in mosaics.
Continue to work on your mosaics assisted by Martin and Andrew.
12.30-13.30: Lunch at the Sant'Apollinare Nuovo Ristorazione
Workshop 1: 14.00 – 19.30: In the afternoon you can continue to work (unassisted) or visit one of the suggested churches or museums (see list below) or simply relax.
Tidy up and prepare for the exhibition.
n.b: For workshop 2: Saturday 21 November is departure day.

Day 7 – Tuesday 10th November / Saturday 21st November
9.00-12.30: Mosaic Workshop #5
Talk 4: Martin will give his talk on 'What is your mosaic ABOUT?!'
Workshop 1:Continue to work on your mosaics assisted by Martin and Andrew.
Workshop 2: Finish work on your mosaics.
12.30-13.30: Lunch at the Sant'Apollinare Nuovo Ristorazione
Workshop 1: 14.00: Visit to Luciana Nobille Mosaic Studio and MAR Museum.
Workshop 2: 17.00: Exhibition of the produced mosaics.

Day 8 - Wednesday 11th November
9.00-12.30: Mosaic Workshop #6
Talk 5: Martin will talk on symbolism in mosaics.
Continue to work on your mosaics assisted by Martin and Andrew.
12.30-13.30: Lunch at the Sant'Apollinare Nuovo Ristorazione
14.00 – 19.00: In the afternoon you can continue to work (unassisted) or visit one of the suggested churches or museums (see list below) or simply relax.

Day 9 - Thursday 12th November
9.00-12.30: Mosaic Workshop #7
Talk 6: Martin will talk about the design, fabrication and installation of his Barbados floor. How to develop your portfolio and price your work
Continue to work on your mosaics assisted by Martin and Andrew.
12.30-13.30: Lunch at the Sant'Apollinare Nuovo Ristorazione
14.00 – 19.00: In the afternoon you can continue to work (unassisted) or relax. Suggested visit to Rimini and visit the roman mosaics of the Domus del Chirurgo

Day 10 - Friday 13th November
9.00-12.30: Mosaic Workshop #8
Talk 7: Martin will talk about inspiration, the creative process and how he works. Finish work on your mosaics.
Tidy up and prepare for the exhibition.
12.30-13.30: Lunch at the Sant'Apollinare Nuovo Ristorazione
17.00: Exhibition of the produced mosaics.
Martin and Andrew will evaluate the group's mosaics and our week's work.

Day 11 - Saturday 14th / Sunday 22nd November
Departure day. BA 0545 departing Bologna 18.45 arriving London Heathrow 20.00
Related articles
Special discount of 15% for all our students!
This course is suitable only for students with mosaic experience. The workshop peculiarity is to learn how to interpret a drawing/ image/ picture/ project and how to translate...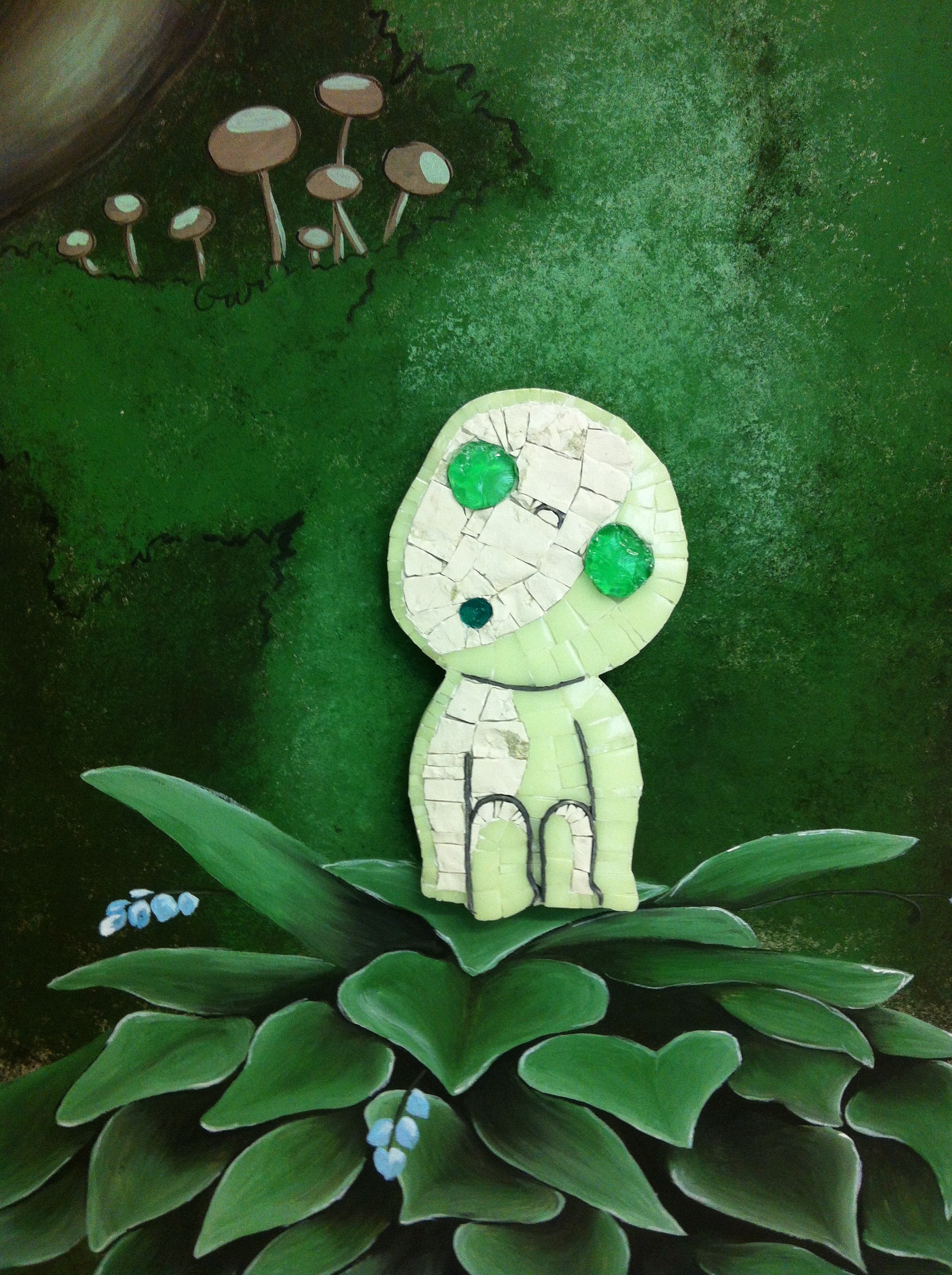 The workshop's focus is the translation into mosaic of the manga drawing you have chosen. Together we will determine the best technique and the most...